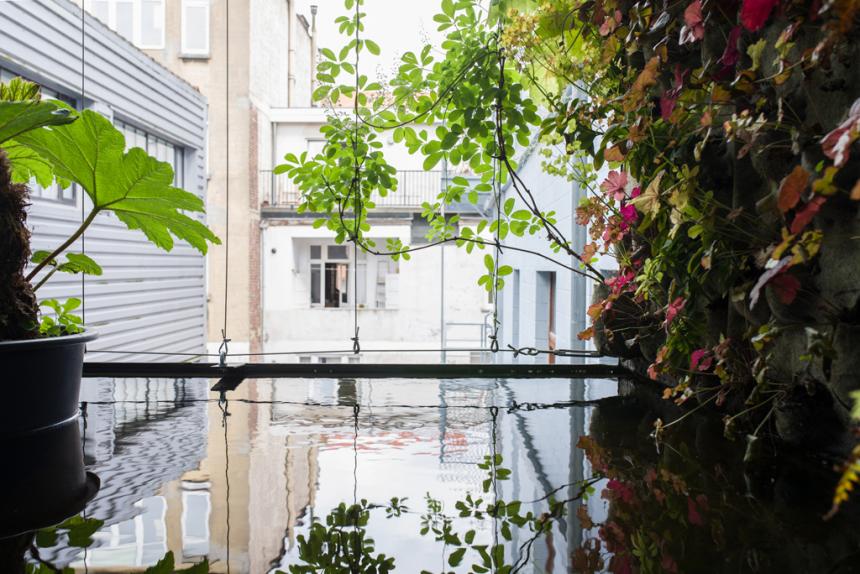 118_LOFT_254
Program
Transformation of an abandoned printing factory into a loft with a garden roof terrace
K2A Team
Kervyn -
Alegria -
Matthys -
Pezin -
General Contractor
AM expert Construct
+
The large industrial building (+/- 1600 m² total surface) was a derelict printing factory in the heart of the densely knit neighbourhood of St. Gilles, in Brussels. The typology of this type of building is ideal for certain activities but often poses serious design challenges to bring sufficient natural light to all the spaces.
The program required essentially 4 complementary activities: an art gallery, a photo-studio for fashion photography, an open office space / studio space and a loft for a photographer. Finally, the building had to offer parking for cars as well as small delivery trucks transporting stage props and technical material.
To gain surface and to create a closer connection with the roof terrace, the loft was imagined as a duplex. Mezzanines were added which contain the bedrooms. Connecting the mezzanines are various sculptural staircases and "catwalks" that enhance the theatrical qualities of the duplex. These connecting spaces can be used by the owner for a photo-shoot or can simply be used as a large bookshelf or platforms to places various objects.
In order to bring natural light into the heart of the loft, a "pocket" was dug out on the lateral side of the building. This pockets was planted with various types of vegetation and a water basin offering a visual barrier between the occupants and the neighbours.
The roof of the building was entirely isolated and transformed into a large planted garden (+/- 200m²).
To complete the garden, a small green house was added as well as a wooden deck terrace. Finally, an organic metallic structure was designed which will be a support for all the growing plants and "encloses" certain spaces on the roof
+